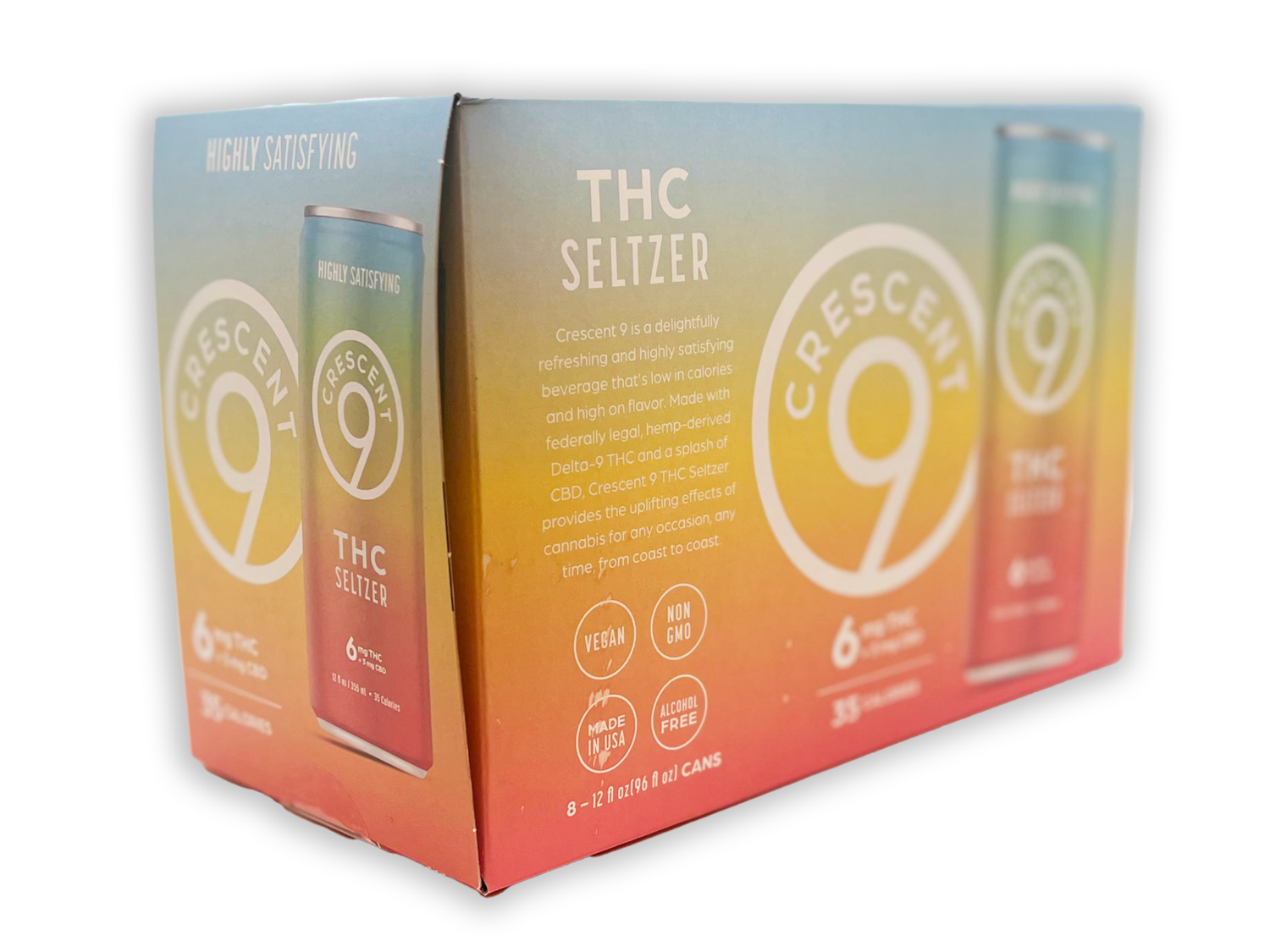 Crescent 9 THC Seltzer 8pck
11667
Product Details
Crescent 9 Seltzer: A refreshing tropical mango flavored beverage infused with 6mg of CBD and an energizing 40mg of caffeine. Enjoy a balanced boost in a single can!
Suggested Use:
Each Crescent 9 THC Seltzer can has 6 mg of THC. If it's your first time using cannabis, begin with half a can (3 mg) to gauge its impact. Effects typically set in after around fifteen minutes.
FAQ:
Shipping: This product does not qualify for free shipping. Priority shipping is mandatory.

Order Tracking: You'll receive a tracking number once your order is dispatched.

Returns/Exchanges: Due to product nature, we don't accept returns or exchanges, but contact customer support for concerns.

8 cans per pack
Lab-tested: See our certificates of analysis here.
Where to Buy Crescent 9 Seltzer?
You can buy Crescent 9 Seltzers In-Store at our Cherry Hill Mall, Cherry Hill Route 70, Moorestown Mall, Burlington, or Bethlehem Locations. You can also shop your favorite delta-9 products online.
Ingredients
Filtered water, mango puree, natural flavors, citric acid, BCAA, sodium citrate, ascorbic acid, potassium sorbate, vegetable juice (color), hemp extract, less than 0.001% sodium benzoate
WARNING: Keep THC products out of the reach of children and animals. THC products are for purchase and use only by persons 21 or older. Do not use THC products if you are pregnant or breastfeeding. Consuming THC products will impair your ability to drive and operate machinery. THC products may cause anxiety, confusion, headaches, and other adverse effects. Consult with a doctor before using any THC products if you are taking medication or if you have a health condition. Do not use THC, CBD, or any other hemp products if you are subject to drug testing. State restrictions and prohibitions may apply. Check your local laws before purchase.
Save this product for later