In honor of it being Breast Cancer Awareness Month, we would like to use this time to take a closer look into how cannabis may have potential benefits for patients dealing with cancer.
Does cannabis have any benefits for cancer? 
There are findings that suggest there are components of cannabis that may be able to help relieve some side effects and symptoms, but unfortunately, there is nothing to show that these cannabinoids are able to cure cancer. Cannabinoids such as CBD, THC, and CBG have all been shown to help symptoms such as stress, anxiety, pain, inflammation, nausea, and increased appetite. So although there is no research indicating cannabis may act as a cure for cancer, it may still be able to help provide some relief for patients enduring these symptoms.
What is CBD?
CBD, which stands for Cannabidiol, is the main cannabinoid in the hemp industry as it is one of the most concentrated cannabinoids in industrial hemp plants. CBDa, or Cannabidiolic Acid, is actually the most abundant cannabinoid in hemp plants, for the most part. CBD comes from the breaking down of CBDa through a process known as decarboxylation. CBD is essentially the activated version of CBDa. CBD has an abundance of health benefits but is not psychoactive, which is what has made it so popular amongst consumers. Some of CBD's potential benefits also include reducing inflammation, pain, and anxiety, relieving nausea and has even been found to reduce the frequency and severity of seizures. Again, these are not all of the potential benefits of CBD, but these are some of the most well-known benefits. CBD also interacts with the endocannabinoid system and other bodily systems to provide these effects. Both CBD and THC tend to be on the more relaxing side, making them great alternatives when looking to take a hiatus from alcohol.
What is THC?
THC, also known as Delta-9-Tetrahydrocannabinol, is the most common cannabinoid found in marijuana and is responsible for most of the intoxicating effects of marijuana. Delta 9 THC is often referred to as "THC." Delta 9 THC is very popular for its intoxicating psychoactive effects, but it also has a number of medicinal properties and benefits such as it may reduce inflammation, pain, and anxiety, relieving nausea, and stimulating appetite. There are many other potential benefits of THC, but those are just some of the main ones. The intoxicating effects of THC set it aside from other cannabinoids and contribute to its recreational use. Delta-9 THC induces its psychoactive, intoxicating effects mainly by binding to CB1 receptors in the endocannabinoid system. It also interacts with other endocannabinoid receptors and other systems throughout the body. Delta-9 THC is the most studied cannabinoid as it is the main one in marijuana.
Who has done research on cannabis and cancer?
Quite a few researchers have started to look into if and how cannabis may provide any benefits to patients who have been diagnosed with cancer. There have been some early clinical trials of cannabinoids in treating cancer in humans that have been done, and more studies are planned for the future. While these studies so far have shown that cannabinoids can be safe in treating cancer, they unfortunately do not show that they help control or cure the disease. Some studies have shown that smoking marijuana can be helpful in treating nausea and vomiting from cancer chemotherapy and even neuropathic pain, which is pain caused by damaged nerves.
Blazy Susan
Blazy Susan gives back to breast cancer charities year-round, but in honor of Breast Cancer Awareness Month, they will be giving back an additional 10% of proceeds from all of their pink products to breast cancer charities. 1 in 8 women are diagnosed with breast cancer in their lifetime, and the founder of Blazy Susan's mom was one of them. Her story of strength and survival is what inspired him to do something meaningful for breast cancer awareness – and that's exactly how their pink papers got started.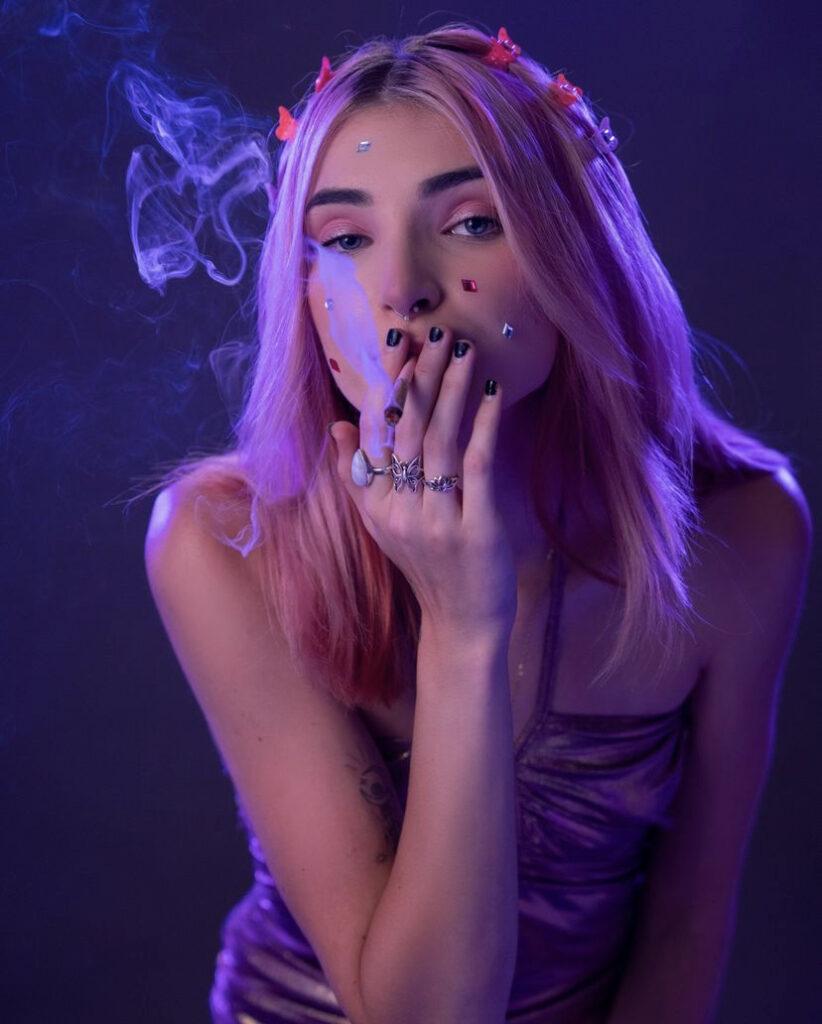 Pink Weekend
This weekend at Nurse Wellness we will be having a Breast Cancer Awareness Sale where customers get 10% off any purchase of pink products & 10% of proceeds will go to Breast Cancer Foundation, Susan G. Komen, who invests in breakthrough research to prevent and cure breast cancer. The pink products that will be included in this weekend's sale include Enjoy's Delta-9 Euphoria products, Strawberry Lemonade Juice Joint drinks, Enjoy's THC + CBD Balance Gummies, Ruby Grapefruit & Guava Passion Fruit Cycling Frog THC seltzers, Trojan Horse's 30mg Tropical Blast gummies, Enjoy's CBD + CBG Relief Disposable Vape, Odyssey's Dragon Fruit Lemonade elixir, Enjoy's Delta-8 Relief gummies, Enjoy's Sex gummies, and Blazy Susan's pink rolling papers.