Brands

Shop Your Favorite Brands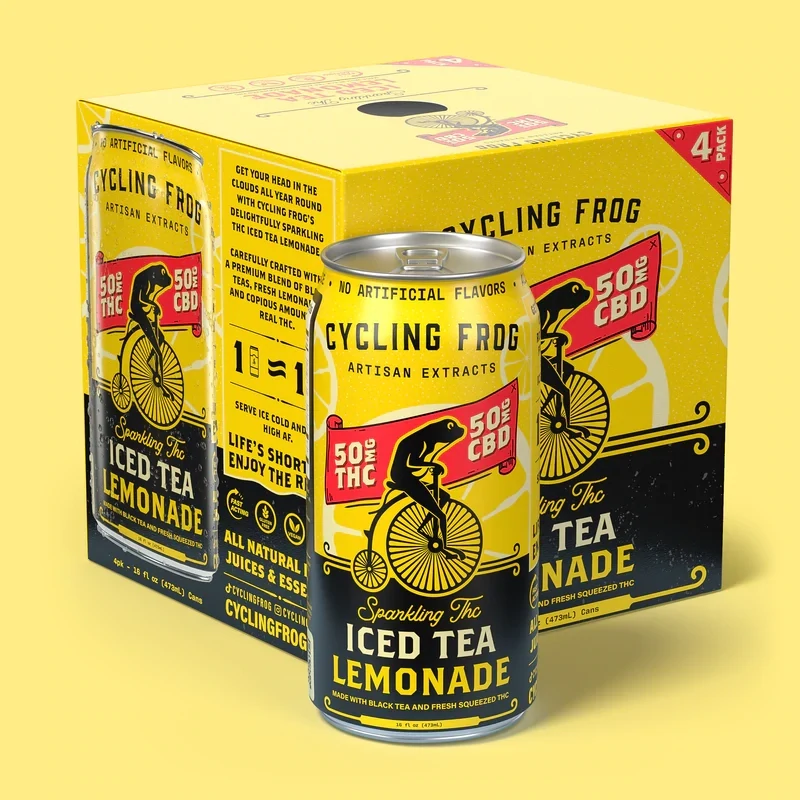 Cycling Frog: Sparkling THC + CBD Iced Tea Lemonade Seltzer , 4PK
850035013328
Product Details
Cycling Frog: Sparkling THC + CBD Iced Tea Lemonade Seltzer, 4PK - a harmonious fusion of 50mg THC and 50mg CBD in a sparkling iced tea lemonade blend. Crafted to offer a discreet and delightful way to enjoy the benefits of cannabis, this 4-pack promises a refreshing twist on relaxation.
Suggested Use:
Caution: This product packs a powerful punch with a whopping 50mg of THC in each can. A typical THC serving ranges from 5-10mg, so we recommend this for seasoned users. If your THC tolerance is on the lower side, consider savoring this product over several days using a can saver. Begin with a cautious approach, perhaps starting with just 1/8th or 1/10th of a can, and find a pace that suits you best. Your comfort and well-being are our top priorities.
FAQ:
Shipping: This product does not qualify for free shipping. Priority shipping is mandatory.

Availability: Anticipate availability at the start of November.

Order Tracking: You'll receive a tracking number once your order is dispatched.

Returns/Exchanges: Due to product nature, we don't accept returns or exchanges, but contact customer support for concerns.
Ingredients:
Water, Lemon Juice, Organic pear juice concentrate, Granulated sugar, Nano emulsified hemp extract (Distilled water, Modified starch, MCT oil, Hemp extract, Lactic acid, Potassium sorbate), Organic clarified lemon juice, Brewed black tea, Natural black leaf tea, Natural lemon flavor, Potassium sorbate
Elevate your cycling experience with Cycling Frog: Sparkling THC + CBD Iced Tea Lemonade Seltzer, 4PK. This cannabis-infused iced tea promises a discreet, refreshing way to unwind and enjoy the benefits of THC and CBD.
WARNING: Keep THC products out of the reach of children and animals. THC products are for purchase and use only by persons 21 or older. Do not use THC products if you are pregnant or breastfeeding. Consuming THC products will impair your ability to drive and operate machinery. THC products may cause anxiety, confusion, headaches, and other adverse effects. Do not use THC products if you are taking medication or if you have a health condition before first consulting with a doctor.
Save this product for later