USE CODE ENJOYCBD AT CHECKOUT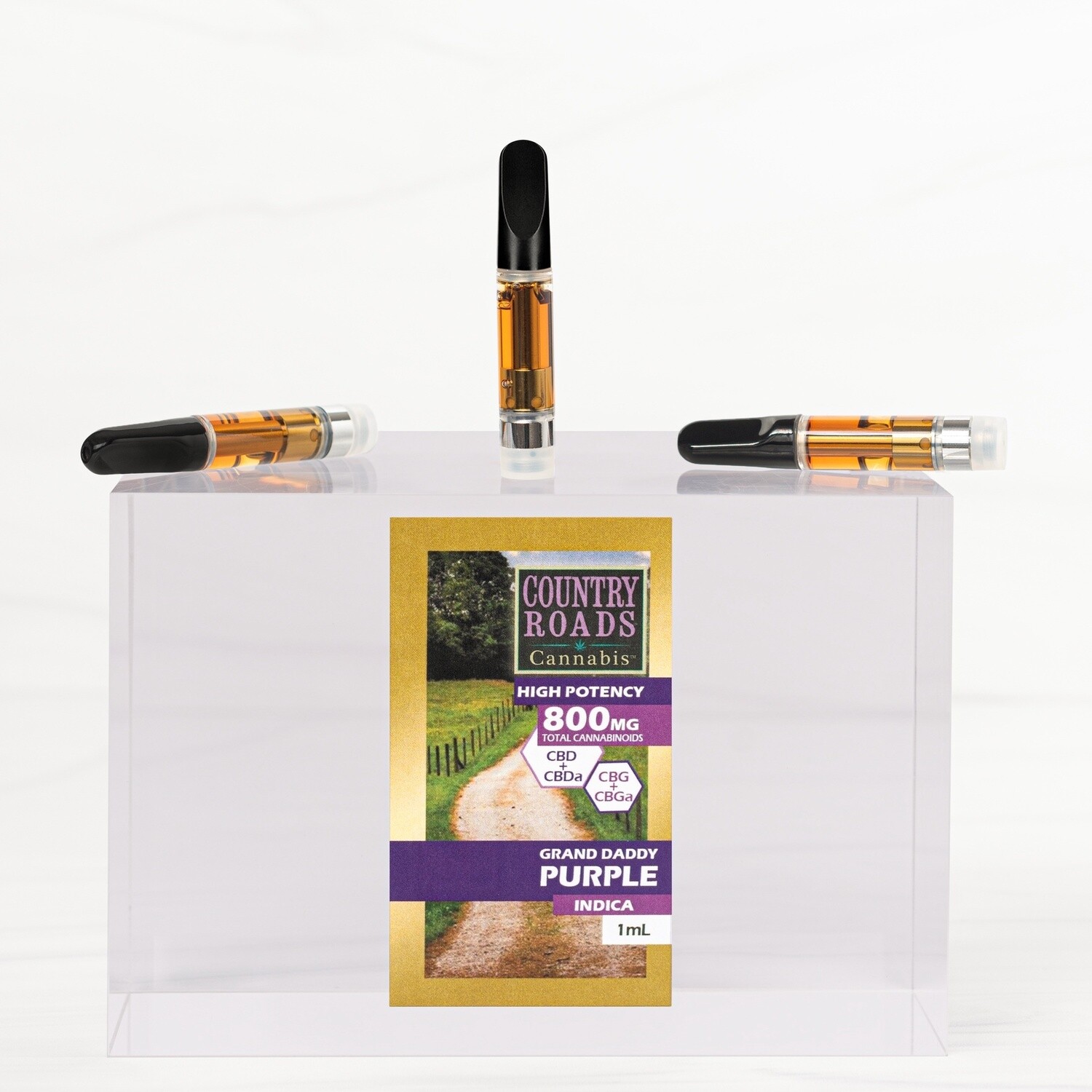 Country Roads: CBD Vape Cartridges
10144
Product Details
Country Roads: CBD Vape Cartridges
Country Roads: CBD Vape Cartridges
One of the most potent CBD Vapes on the market, this Revived Resin Vape utilizes a subcritical CO2 extraction that preserves the raw cannabinoids like CBDa. This vape comes in at 800mg of total cannabinoids with about 46% CBDa and 33% CBD with traces of THC, CBG and CBGa. Fully Cannabis derived terpenes are used to give this vape a pure cannabis experience. Most CBD cartridges with this potency would crystalize, however the CBDa content prevents crystalization and allows for a more potent CBD vape than is typically possible. Enjoy! Consult your physician before use.
Super Sour Diesel - This sativa strain provides effects that foster creativity and euphoria. Super Sour Diesel is energizing, which makes it great for daytime use or socializing.
Pineapple Express - Pineapple Express is a sativa-dominant hybrid strain that produces long-lasting energetic effects that you can feel right away.
Gelato - Gelato is an evenly-balanced hybrid strain that produces a euphoric effect accompanied by strong feeling of relaxation.
GG4 - "Gorilla Glue #4" is a potent hybrid strain that delivers heavy-handed euphoria and relaxation, leaving you feeling "glued" to the couch.
Zkittles -Zkittlez is an indica strain whose are calming, leaving consumers alert and happy while relaxing the body to help unwind any time of day.
Granddaddy Purple - This strain's potent indica effects are clearly detectable in both mind and body, delivering a fusion of cerebral euphoria and physical relaxation. While your thoughts may float in a dreamy buzz, your body is more likely to find itself fixed in one spot.
Product Details:
800mg Total Cannabinoids
Full Spectrum Extract
Third Party Lab Tested
No MCT (Medium-Chain Triglyceride), No VG (Vegetable Glycerin), No PG (Propylene Glycol)
Important Product Notes
There is supposed to be air at the top of the tank. When the cartridge is made, the oil is poured to the top of the glass tank and capped quickly to prevent leaking. Over time the oil gradually soaks into the coil area creating space at the top of the tank. This can be as much as 40% of the total amount, which can make tanks appear partly unfilled while actually containing a full amount of product. Keep at room temperature and upright to prevent leaking. Keep out of sunlight and in a cool, dark place for the longest life of product. Products may go bad or lose their potency if subjected to extreme heat or sunlight for long periods.
CBD Vape Cartridge Directions:
The cartridge is ready to go upon receipt and works simply by attaching to a 510 compatible battery and inhaling with lips around the mouthpiece. Do not take big hits of this pen.
Legalities
USE RESPONSIBLY. DO NOT TAKE MORE THAN THE AMOUNT RECOMMENDED BY YOUR DOCTOR. Do not use if pregnant, nursing, or if you have any diagnosed or undiagnosed health conditions. Must be 21 years or older to purchase or use AND must be legal in your state or territory.
There are no long-term, definitive studies on the effects of this product. Everything is based on firsthand user experiences and is provided as information only. It is not medical advice, and our product does not diagnose, treat, cure, or prevent any diseases, conditions, or any other ailment. You may have an entirely different experience. We do not suggest in any way, shape, or form, that your experience will be the same.
Refrigeration is not necessary but is encouraged as it will extend the life of the oil. Do not store above room temperature or in a humid environment. Do not touch dropper to skin, mouth, or any surface between or during use to help prevent contamination.
FDA DISCLOSURE These statements have not been evaluated by the FDA nor is this product FDA approved.
Battery Sold Separately.
Save this product for later